Microneedling (Collagen Induction Therapy)
Microneedling (Collagen Induction Therapy) in Midtown East, New York City (NYC)
REJUVENATION (75 min $350) Book Now
ENHANCED (90 min $425) Book Now
Also known as Collagen Induction Therapy, Microneedling is the next generation of aesthetic treatments that induce collagen naturally within the skin. It activates a natural wound-healing of the skin by stimulating epidermal growth factors as well as fibroblasts. This encourages the natural production of collagen to address fine lines and wrinkles, acne scars, and stretch marks while improving skin texture, tone, and firmness. This non-invasive treatment creates microscopic channels within the epidermis, increasing the depth of transdermal penetration and allowing the absorption of various vital skin-specific nutrients to improve and correct a wide range of skin concerns on all skin types and ethnicities with long-term visible results.
Microneedling can be done on the: face, upper lip lines, crow's feet, neck, décolleté, back, arms, abdomen, buttocks, and legs.
All Microneedling treatments finish with applications of: skin-specific corrective serums, replenishing gel, calming balm, hydrators, and broad spectrum SPF.
After

Acne Scars


---

Treated with: Microneedling Enhanced (Collagen Induction Therapy)
Photo Courtesy of: Dermapen®


---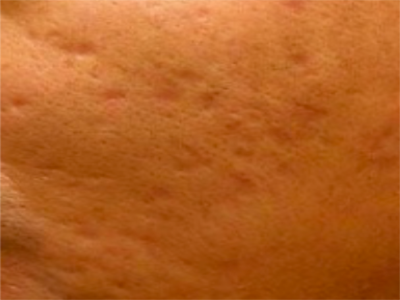 After

Acne Scars


---

Treated with: Microneedling Enhanced (Collagen Induction Therapy)
Photo Courtesy of: Dermapen®


---
How does it work?
We perform Microneedling treatments using a Dermapen®. The Dermapen® is an automated Microneedling device with adjustable penetration depths for different areas of the face and body. When moved across the skin's surface, it stimulates natural collagen reproduction, while allowing microscopic channels to be created in the epidermis. These infusion channels can carry up to 80% more topical nutrients, allowing transdermal delivery deep into the skin. Depending on the depth of the needle penetration, the Dermapen® can offer skin rejuvenation levels from the simple enhancement of product absorption to the treatment of scars, wrinkles, and stretch marks.
We use a progressive approach to Microneedling that utilizes light to mid-penetration depth treatments that naturally stimulates collagen and elastin productions, leading to a thicker, healthier skin over the course of several months. Light penetration depth treatment opens the skin long enough for the introduction of serums for skin rejuvenation. Treatment serums can be selected for: skin lightening, hydration, texture, and pore tightening. Mid-penetration depth treatment is an enhanced treatment that can have a significant impact on superficial sun damage, light scarring, and stretch marks to improve skin: texture, tone, firmness, and pore size.
How many treatments will I need?
Although you will definitely see visible results after your first treatment, a series of 6 to 8 treatments spaced 4 to 6 weeks apart is recommended to start, with maintenance treatments recommended every 6 to 12 weeks. The effects of Microneedling are cumulative and continuous as the skin rejuvenates naturally over several months. Your skin will continue to improve over the next 6 to 12 months after a course of treatments when you follow the recommended post-treatment care regimen.
Is there any downtime after the treatments?
Generally no, but you may experience slight sensitivity or mild redness for 12 to 48 hours after the treatment. Most people are able to return to normal daily activities immediately after the treatment. Microneedling is a safe and effective anti-aging solution with minimal discomfort and no downtime.
Recommended Post-procedure Guidelines for Skin Treatments
---